Daqua Ltd are distributors for Thermax (Tulsion) Ion Exchange Resins
Softening Resins
|
Bio Diesel Resin
|
Anion Resins
|
Cation Resins
|
Speciality Resins
FOR BULK ORDERS PLEASE CONTACT US DIRECT
---
click to enlarge
Purolite Mixed Bed DI Resin
Purolite MB-400 25 Litre ( SPECIAL OFFER )
Purolite MB400 is a high quality resin mixture for direct purification of water. It is suitable for use in regenerable or non-regenerable cartridges and in large ion exchange units. Can be used for window cleaning and car valeting.
Prices include delivery to UK Mainland (ex. Scottish Highlands)
1 Bag - £78.33 ea (£94.00 including vat and UK delivery)
2 + Bags - £74.92 ea (£89.80 including vat and UK delivery)

Purolite MB400 various litre bags
---
click to enlarge
NEW RESIN COMBO OFFERS PAGE WHEN YOU CLICK "CONTINUE" AFTER ORDERING THIS PRODUCT
Virgin Mixed Bed DI Resin
Tulsion MB-115 25 Litre
Tulsion MB-115 is a mixed bed resin of strongly acidic cation exchange resin Tulsion T-46 in Hydroegn form and strongly basic type 1 anion exchange resin Tulsion A-33 in hydroxide form in 1:1.5 volume ratio.
Tulsion MB-115 is designed for use in final polishing for production of ultra pure water.
Tulsion MB-115 is a high grade mixed bed resin that can cope with high input mS/cm or ppm giving you ultra pure water
Tulsion MB-115 demineralizer resin applications include water fed pole industry, car valeting, electronics, electronic industries which manufacture semi conductors and television tubes, glass cleaning,EDM,cosmetics, Steam Irons and many more applications where demin water is required
Tulsion MB-115 is equivalent to Purolite MB 400 and Dowex MB 50
TULSION MB-115 is a higher grade of resin which has a higher capacity that cheaper grades of resin on the market which will have a lower capacity
All of our batches are QC tested and comply with the below specifications
Product Specification
Tulsion T-46H (Cation)
Ionic Form: Hydrogen
Total Exchange Capcity: 1.8meq/ml min of 99% in H form
Moisture Content: 52+/-3%
pH range: 0-14


Tulsion A-33 0H (Anion)
Ionic Form: Hydroxide
Total Exchange Capcity: 1meq/ml min of 90% in OH form & max 1% in CL form
Moisture Content: 70+/-3%
pH range: 0-14



Prices include delivery to UK Mainland (ex. Scottish Highlands)

1 Pallet (40 bags) - Price on request

Prices include delivery to UK Mainland (ex. Scottish Highlands)

1 Bag - £65.42 ea (£78.50 including vat and UK delivery)
2 Bags - £61.67 ea (£74.00 including vat and UK delivery)
3 Bags - £60.42 ea (£72.50 including vat and UK delivery)

1 Pallet (40 bags) - Price on request

Sorry out of stock until 16th May





Please note there are several companies selling resin in plain bags labelled MB-115. This is NOT Tulsion product so any capacity issues please bring this up with the seller and not with Tulsion as it is not their product



---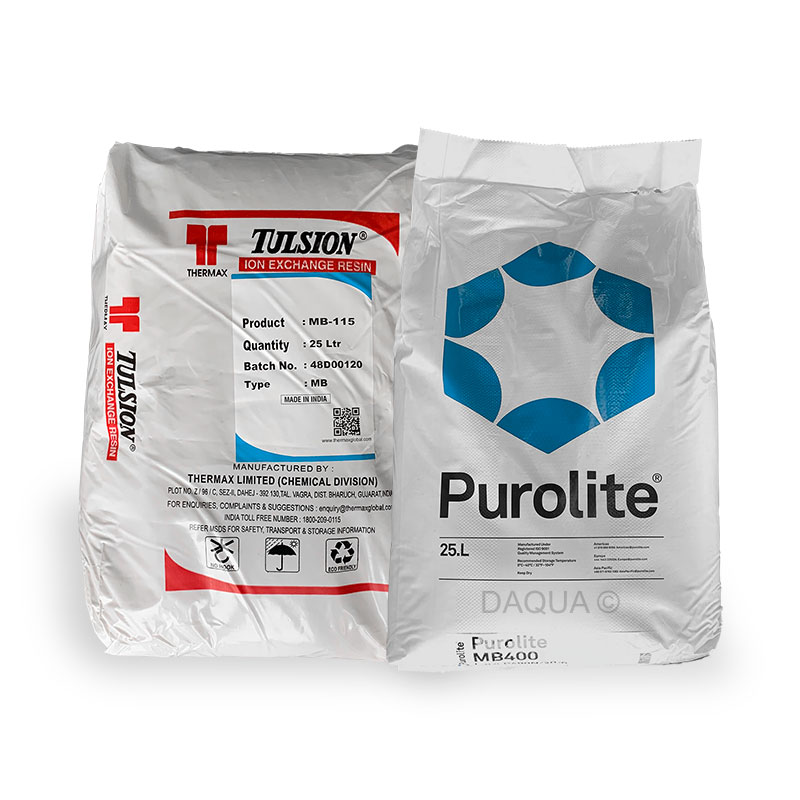 Virgin Mixed Bed Resin
Tulsion MB-115 various
Sorry out of stock until 16th May
---
Colour Change Virgin Mixed Bed Resin
Tulsion MB-CCS Colour Change Resin from Blue to Brown various